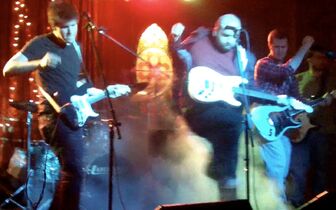 Welcome to the Lunaticapedia Wiki
All things revolving around Luna Records and The Lunatic. Feel free to add information.
News
An Introduction
Welcome to Lunaticapedia, the Lunatic encyclopedia! Everying here centers around Luna Records and the members and bands who record for the project. Feel free to browse around and contribute.
Places to Start
Categories
Categories are a great way to keep track of what goes where. At the bottom of each page, there are relevant category pages. For instance, there's an entire category for all Songs that have been listed on Lunaticapedia. Here's a running list of every category on the wiki.
Latest activity
Ad blocker interference detected!
Wikia is a free-to-use site that makes money from advertising. We have a modified experience for viewers using ad blockers

Wikia is not accessible if you've made further modifications. Remove the custom ad blocker rule(s) and the page will load as expected.